On the ground floor, we find again the former lustre of the residence. Woodwork, fireplaces, main staircase, floors, large windows overlooking the park, wood panelling, stained glass windows and frescoes, old paintings.
All in all, that's no less than 1200 m² to occupy !
The castle has 62 beds in rooms of different capacities (list of rooms)
Two bathrooms, each with 4 showers and 4 sinks
Three connecting multi-purpose meeting rooms for up to 100 people
A large outdoor terrace of 15 m x 2.9 m overlooking the park
A dining room in the square tower, for 48 people
A well-equipped and fully functional kitchen with cooker, electric oven, fridge, freezer, pots and pans, etc.
A pantry close to the rooms with crockery, fridges and various materials
A chapel
A car park with a capacity of 30 cars, and more by prior arrangement
…
---
Although the castle has 35 rooms, it is difficult to get lost in it, as it is built in a rectangle with a tower with a bulbous roof, typical of the Mosan architecture. In the entrance hall, ironwork by Sacré-Notermans leads to the upper floors, while art-nouveau stained glass windows adorn the doorframes.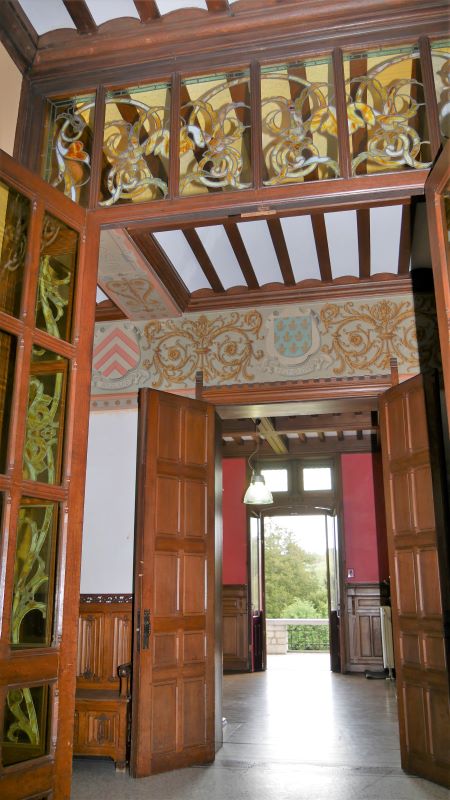 The main corridor is lined with six large paintings by J. Vuidar, old representations of Liège in 18th century - rue Pierreuse, promenade d'Avroy...
Decorated with the coat of arms of Liège, these views recall the function of provincial councillor of the first master of the place.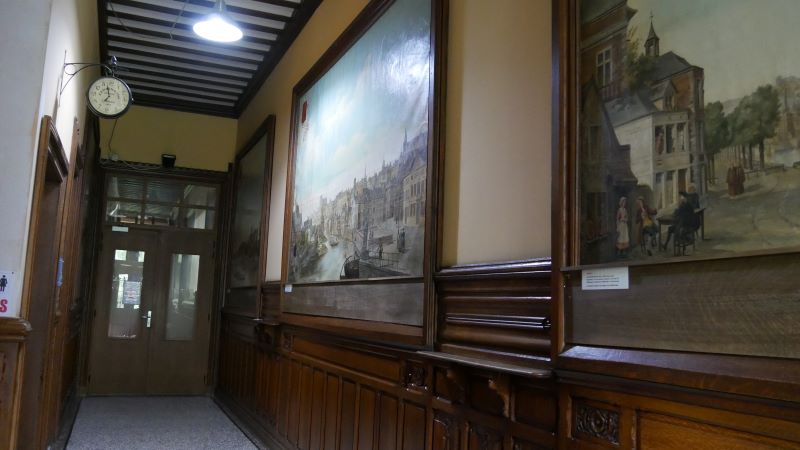 A chapel, built at a later date, completes the elegant building. It is more contemporary in style and has brightly coloured stained glass windows, which are attributed to Raymond Rikir, a well-known architect of the 1960s.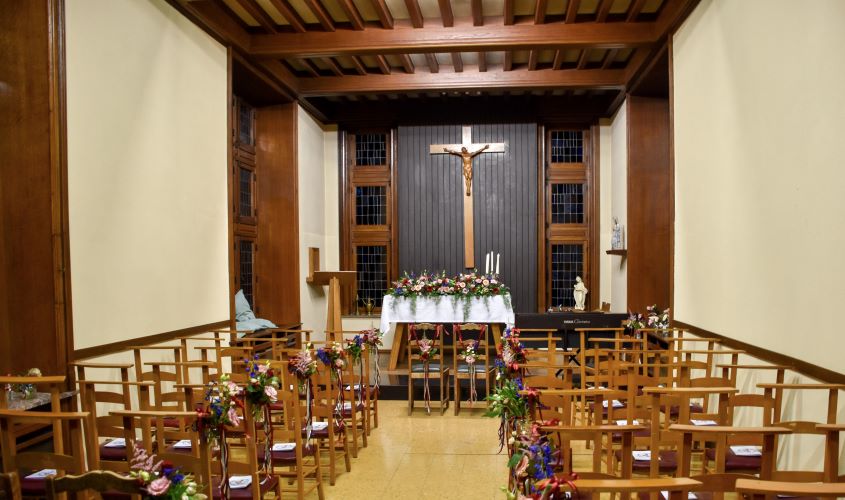 Main rooms on the ground floor, each with interesting carved wood or marble fireplaces.